Year conviction was overturned:
2021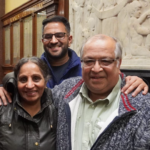 ---
Vipinchandra Patel was one of a group of former sub-postmasters and post-mistresses who were convicted of offences including theft, false accounting, and fraud, based on information from a computer system called Horizon which suggested that money had gone missing from post-office branch accounts. The basis of each of the prosecutions in these cases was that money missing from the branch account had been a result of theft by the sub-postmaster or mistress, or had been covered up by fraud or false accounting by the sub-postmaster or mistress.
Mr Patel experienced shortages at his branch from 2008 onwards.
Mr Patel pleaded guilty to fraud, and has subsequently explained that he felt forced to do so. He received a sentence of 18 weeks imprisonment, suspended for 12 months with a condition of curfew for two months.
His conviction was quashed when errors in the Horizon system were identified as the cause of the shortfall.
He has said about his experience, "Personally, the past nine years have been hellish and a total nightmare.
This conviction has been a cloud over my life. There are members of my family I've never told about it, and my mother died five years ago never knowing what we'd been through as a family.
It has impacted on every aspect of life, causing the breakdown of relationships with some family members and friends, impacting on the lives of my wife and children and leaving me in ill health and unable to work due to having a criminal record.
Today I feel I can start living again. I can look forward and focus on enjoying life."
View Press (www.hudgellsolicitors.co.uk)
View Press (www.thetimes.co.uk)
< Back to Case Search
< Back to Overview Graph
Offence: Theft / fraud
Jurisdiction: England & Wales
County: Oxfordshire
Ethnicity: Asian
Gender: M
Offence convicted of: Fraud
Year of initial conviction: 2011
Year conviction was overturned: 2021
CCRC Referral: Y
Post Office Case: Y
Crown argued case at CofA: N
Retrial: N