Year conviction was overturned:
2021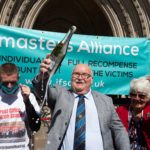 ---
David Thomas Hedges was one of the "Post Office 39," a group of former sub-postmasters and post-mistresses who were convicted of offences including theft, false accounting, and fraud, based on information from a computer system called Horizon which suggested that money had gone missing from post-office branch accounts.
He was sub postmaster at Hogsthorpe Post Office from 1994 until 2010 when he was accused of theft and fraud and dismissed. He pleaded guilty to one count of theft in the sum of £23,660.89 and three counts of fraud. The accusation almost made him and his wife bankrupt and many of his friends stopped talking to him. He had to live off his wife's pension and casual work he managed to find. As a result of his precarious financial situation he was granted a legal aid lawyer. He has noted that legal aid rates are not generous and that "reflects in the quality of representation," and that for him "all thought of trying to fight the mighty post office with its corporate power and money went out of the window."
He has said that he was advised by his lawyer that a company the size of The Post Office would have a 'bomb proof system' and that if he pleaded 'not guilty' he would have no hope in court. The consequences of making a not guilty plea and then being found guilty would almost certainly have been a custodial sentence. Faced with this prospect, his lawyer advised that a guilty plea, which would likely result in a suspended custodial sentence, was his best choice. He reported that "I was petrified of the prospect of jail so chose to plead guilty." He was sentenced to seven months' imprisonment suspended for 18 months with an unpaid work requirement of 125 hours and was ordered to pay prosecution costs of £1,000.
On appeal, the Court of Appeal accepted findings that bugs, errors, and defects in Horizon could, and did, cause discrepancies and shortfalls in branch accounts. The court concluded that if the Horizon data was not reliable then there was no basis for the prosecution, and the convictions were quashed. The court noted that failures of investigation and disclosure in the cases prevented the appellants from challenging, or challenging effectively, the reliability of the Horizon data.
View Press (www.skegnessstandard.co.uk)
< Back to Case Search
< Back to Overview Graph