Year conviction was overturned:
2021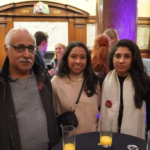 ---
Parmod Kalia was one of a group of former sub-postmasters and post-mistresses who were convicted of offences including theft, false accounting, and fraud, based on information from a computer system called Horizon which suggested that money had gone missing from post-office branch accounts.
After having run his post office for 11 years, Mr Kalia found inexplicable discrepancies on his Post Office Horizon computer system. He reported the problem and paid £22,000 (the amount of the alleged shortfall) to the Post Office based on advice from his union, but the Post Office still prosecuted him. He confessed and pleaded guilty to false accounting. He was sentenced to six months in prison. He has said that he wishes he hadn't pleaded guilty but when faced with computer evidence, his union representative said his case was unwinnable and he was frightened. He has said: "The only reason I ever said I had taken the money is because I was told that was my only option to avoid jail. I was told I needed to repay the money and make up a story as to where the £22,000 had gone." He pleaded guilty hoping for a lenient sentence, but was sentenced to six months in prison.
On appeal, the Court of Appeal accepted findings that bugs, errors, and defects in the Horizon computer system could, and did, cause discrepancies and shortfalls in branch accounts. The court concluded that if the Horizon data was not reliable then there was no basis for the prosecution, and the convictions were quashed. The court noted that failures of investigation and disclosure in the cases prevented the appellants from challenging, or challenging effectively, the reliability of the Horizon data.
< Back to Case Search
< Back to Overview Graph
Offence: Theft / fraud
Jurisdiction: England & Wales
County: Greater London
Ethnicity: Asian
Gender: M
Years in prison: .5
Offence convicted of: Theft
Year of crime: 2001
Year of initial conviction: 2001
Year conviction was overturned: 2021
CCRC Referral: Y
Post Office Case: Y
Tried with others: N