Year conviction was overturned:
2021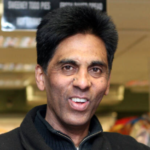 ---
Hasmukh Shingadia was one of a group of former sub-postmasters and post-mistresses who were convicted of offences including theft, false accounting, and fraud, based on information from a computer system called Horizon which suggested that money had gone missing from post-office branch accounts. The basis of each of the prosecutions in these cases was that money missing from the branch account had been a result of theft by the sub-postmaster or mistress, or had been covered up by fraud or false accounting by the sub-postmaster or mistress.
During an audit on the 25th March 2010 a shortfall of £16,180.60 was identified. This shortfall was identified from Horizon records, prior to the installation of the new Horizon Online System. Mr Shingadia reported to the auditor that he could not identify the cause of the shortfall.
Despite his innocence, Mr Shingadia pleaded guilty to fraud after being made to feel like it was his only choice. On the 21st July 2011 Mr Shingadia was sentenced to eight months imprisonment suspended for 12 months with a requirement of 200 hours of unpaid work. He also repaid the money he had supposedly taken from the post office.
Mr Shingadia's conviction was quashed when errors in Horizon were identified as the cause of the shortfall.
The prosecution has had a major impact on Mr Shingadia, who was made to feel like a thief and fraudster in his own community. "It was an awful time for us when I was convicted. My mother had died the previous year, I'd had cancer and undergone surgery to remove a sarcoma, and my daughters were only young at the time and they had people telling them at school that their dad was a thief." (Source: Reading Chronicle).
< Back to Case Search
< Back to Overview Graph
Offence: Theft / fraud
Jurisdiction: England & Wales
County: Oxfordshire
Ethnicity: Asian
Gender: M
Offence convicted of: Fraud
Year of crime: 2009-2012
Year of initial conviction: 2011
Year conviction was overturned: 2021
CCRC Referral: Yes
Post Office Case: Y
Link to full case: https://www.casemine.com/judgement/uk/615fd8362c94e0256f3759e0
Retrial: No