Year conviction was overturned:
2003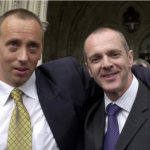 ---
Tony Poole and Gary Mills were convicted of murder for the fatal stabbing of Hensley Wiltshire. Their convictions were quashed on the basis of the unreliability of witness testimony (evidence came to light suggesting one of the witnesses had lied, and also that the prosecution failed to disclose evidence that would have undermined that witness's testimony), and a detectives misleading hearsay summary relating to evidence from another witness.
View Press (www.theguardian.com)
< Back to Case Search
< Back to Overview Graph
Offence: Murder
Jurisdiction: England & Wales
County: Unknown
Ethnicity: White
Gender: M
Years in prison: 13
Offence convicted of: Murder
Year of crime: 1989
Year of initial conviction: 1990
Year conviction was overturned: 2003
Age when imprisoned: 30
CCRC Referral: N
Tried with others: Y
Link to full case: https://www.bailii.org/ew/cases/EWCA/Crim/2003/1753.html
Type of fresh evidence at appeal: Evidence relating to the reliability of witness testimony
Compensation: Yes
Link to compensation: https://www.dailymail.co.uk/news/article-2853515/Man-famously-cleared-murder-serving-13-years-prison-convicted-killing-man.html
Crown argued case at CofA: Unknown
Retrial: Unknown
Previous appeals: Appeal dismissed (but time extention granted) in 1996; appeal dismissed by House of Lords in 1997; CCRC declined to make referral in 2000, judicial review of CCRC decision dismissed by the Divisional Court in 2001 but Court concludes that the "Court of Appeal could now have doubt about the safety of the convictions."